No one likes to receive calls from an unknown number. With scammers and spam calls everywhere, how can you tell if the number who called you is someone you know or a complete stranger? If you're looking for more information about a phone number that called you, look no further than Lookify.io. With a Lookify free search, you can instantly find out relevant information about an unknown caller, such as the carrier, number type (whether it's a mobile or landline), and location.
Click here to start your free search and find out who called
The Lookify free search allows you to find out basic information about a phone number, but with a premium search - you can uncover much more, such as:
Full name of the caller or texter
Age Range
How long the caller has been associated with the phone number
Caller location (including address, state, and zip code)
Associated people and addresses
The full report gives you the information you need to call the number back or block the caller from contacting you again.
A premium search also gives you the ability to see whether the number is associated with spam or scam callers, via the Lookify Threat Meter. The Threat Meter aggregates data from government agencies, DoNotCall reports, and Lookify user reports to show you a threat summary associated with a particular phone number. This score gives you the information you need to either call the number back, or ignore the number if it's considered "High Risk".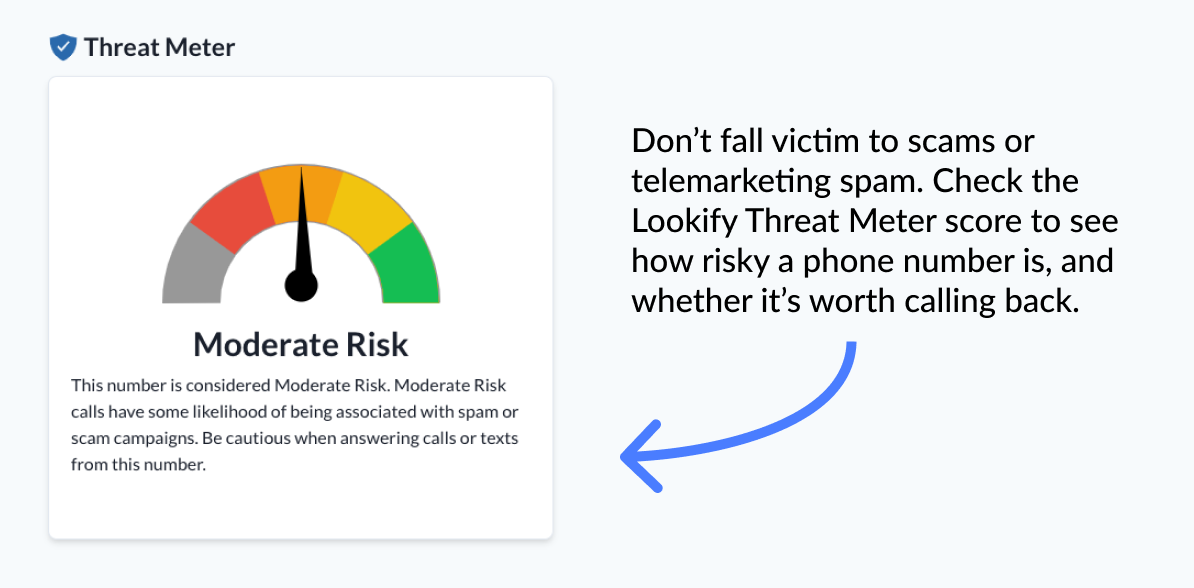 If you're receiving many phone calls associated with spam or scams, you can report the spam or scam phone number or text message to the FTC (or your relevant government agency, depending on your location).
How to find out who called for free
User reports are also a helpful way to identify an unknown caller and are provided free of charge by the community. Many user reports include details about a caller or texter, such as their name. If it's a business, usually the user report will niclude details about why the business contacted them.
At the bottom of a phone number report, you can see reports that other users have left, indicating whether the caller was trustworthy, or trying to sell them something. To leave a report on an abusive caller, you can use the "Submit Report" form at the bottom of the results page. To do so:
Navigate to Lookify.io
Enter the phone number that you'd like to report
Click the "Search" button
Scroll to the bottom of the results page
Look for the "Report This Number" section
When you've found the "Report This Number" section, enter relevant information about the phone number, such as how the number contacted you, and the call type. Be sure to leave a comment with additional details to help other users!

If you're looking for other free ways to uncover the identity of an unknown caller, you can try to use Google to perform a reverse phone number lookup. Keep in mind that the information about a phone number on Google may not be accurate and there could be few or no results at all if the number is not associated with a business or organization.
Is it Legal to Reverse Lookup a Phone Number?
It is legal to find out additional information about a phone number, as long as you do so for the purpose of protecting yourself or out of curiosity as to who called you. You cannot look up a phone number for the purpose of conducting an official background check, as this is only legal under certain circumstances as defined by the Fair Credit Reporting Act.
In general, if you want to find the name of an unknown caller, this is completely legal as most information about unknown callers is public record. Using a service like Lookify allows you to skip the hard work of digging through public records (including phone carrier records), and allows you to obtain the most accurate data with just a single search.
Other Services that Help You Find Out Who Called
Spokeo
Spokeo has been around for a long time and is a search engine that gives you some basic information about a phone number. The Spokeo search is limited to US callers, and sometimes contains misleading or inaccurate information in their results. Before you head over to Spokeo and conduct your search, first be warned: The Spokeo subscription plans which allow you to find out who called are usually very expensive (there is no free trial). In addition, there have been many customers who have reported difficulties with canceling the service. It's highly recommended to read Spokeo reviews before making your purchase.
BeenVerified
BeenVerified is a similar background check application that enables you to enter the name of a person and retrieve information such as their phone number, address, and business details. Although BeenVerified has access to billions of records, the information that BeenVerified provides cannot be used for background checks or tenant/renter screening. BeenVerified offers an iPhone and Android application that you can download to your phone, but no matter what type of application you use to conduct your BeenVerified search, prepare for steep prices of $25+ for each search you conduct.