Scam phone calls and texts are big business: There were over 59 million Americans who reported having lost money as a result of phone scams in the year 2021 – this figure is up from 56 million in 2020. With nearly 1 in 3 Americans report having ever fallen victim to phone scams, what should you do if you receive a scam phone call or text message?
Luckily, there are many ways to report scam callers to various government and consumer organizations. It's important to note that you do not need to have fallen victim for the scam in order to report it - reporting the number even if you weren't a victim helps others protect themselves and gives the government organization valuable data that they otherwise wouldn't know about. In this guide, we will examine all of the various options available to report the phone number associated with a scam.
How To Report Phone Scams (United States)
If you live in the United States, there are a variety of federal government groups that allow you to file a report. Some require more information than others, such as your name and contact information - but there are other groups that allow you to remain anonymous, if you choose. The main organization that collects, aggregates, and investigates scam phone calls is the Federal Trade Commission.
Reporting a scam phone call or text to the Federal Trade Commission is quite simple - navigate to the FTC "Report a scam" web form and first make a selection as to what type of report you'd like to make: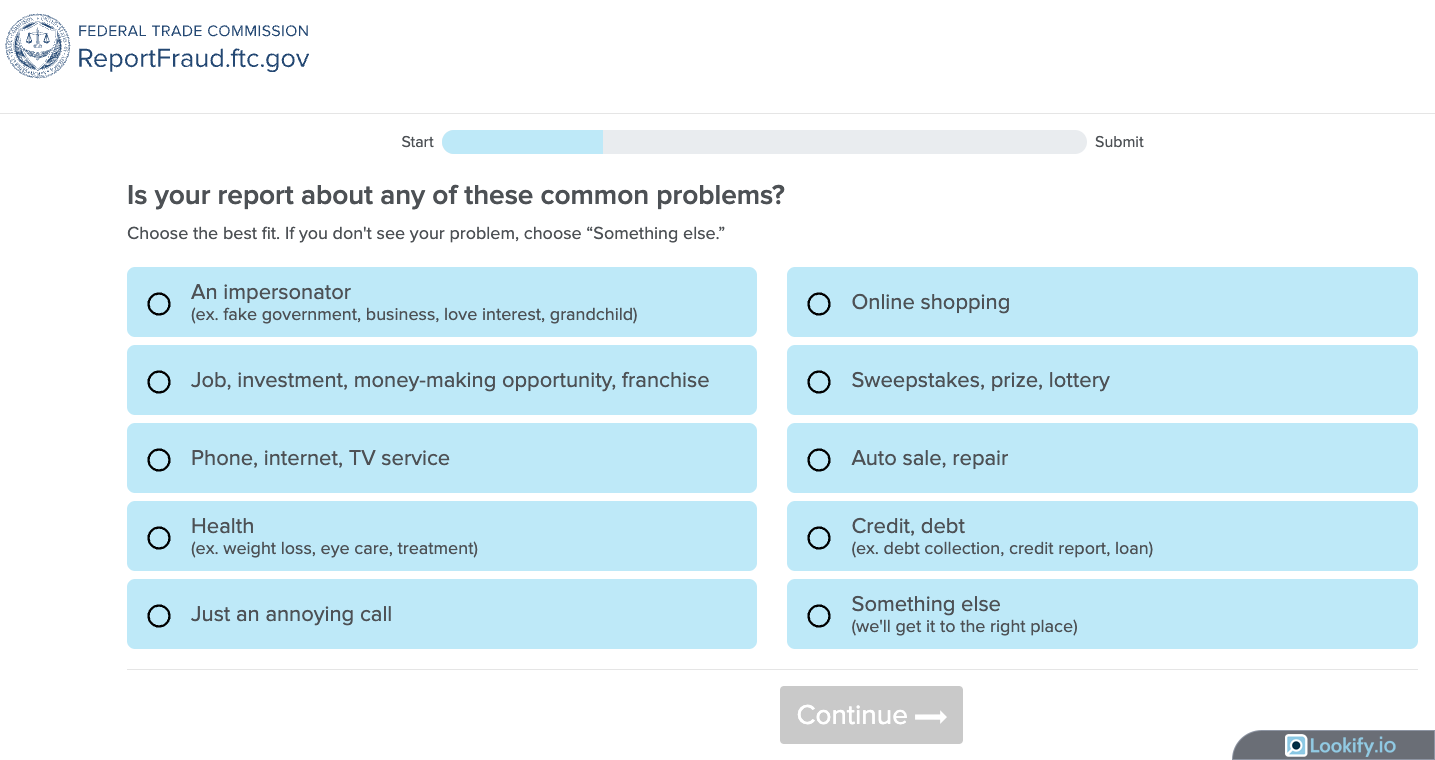 Once you've selected the correct category - fill out as much information as you can on the next page. Be sure to include details such as the callers full name and address. If you do not know this information about the caller, you can perform a premium lookup on Lookify to retrieve that information for you.
Make sure that you do not include sensitive personally identifiable information, such as your SSN, DOB, driver's license numbers, bank account numbers, or medical history. When you are finished with the report, be sure to click submit. Now that you have submitted your report, the FTC may follow up at a later date to ask additional information - but beware - the FTC will not call your phone number asking for additional information regarding your scam report you submitted. Only enter information on the official form.
If you receive a spam call or text message purportedly impersonating any of the following government organizations, click through to the specific organizations' reporting form, in addition to the links mentioned above:
Report Scam Call or Text to Telephone Carrier
If you know the carrier that the scam call is using, you can easily file a report with the carrier who will investigate the report and potentially take action against the telephone subscriber. Don't know the carrier of the call? No problem - simply enter the phone number into the Lookify phone number search, and the carrier details will be provided to you: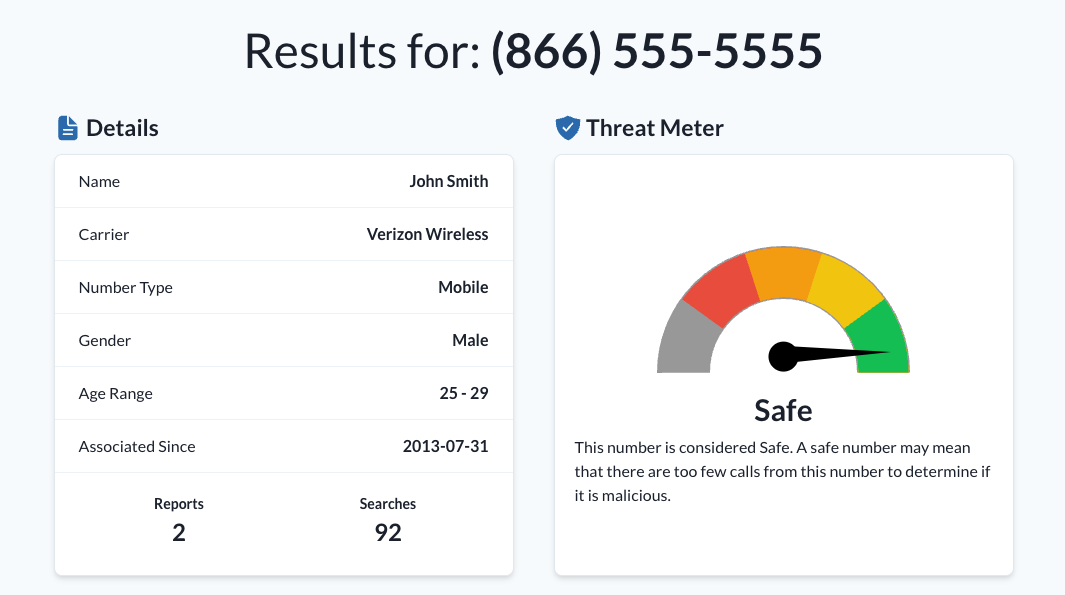 Once you have the carrier of the phone number you want to report, it's time to file a report with the carrier. Each carrier is different, but major carriers typically allow you to report scam text messages by forwarding the text message to 7726. You will receive an automated text message which will ask you for the "From" address. Reply with the "From" address of the scam message - once complete, you'll get a "Thank You" notification verifying that the carrier has received your report.
To see an example of what this process looks like from start to finish, watch the video below:
Once you've reported the text message to your carrier, be sure to also block the number so that they cannot contact you in the future.
Report Phone Scams & Spam (International)
While not as comprehensive compared to the United States, there are a variety of services that can assist international users with reporting phone scams. Most of these services are country-specific, so ensure that you read the instructions carefully before you report the number in question.
Australia
Australia maintains their own Do Not Call Register, allowing citizens to register their phone number online to opt out of receiving most unsolicited telemarketing calls and faxes. Registering your number is free and a number will stay on the register indefinitely unless the number owner or their representative removes it. Keep in mind that it might take up to 30 days for telemarketers to recognize the registration of a number and stop calls and texts.
Canada
If you're receiving a large amount of spam or scam calls, be sure that you have registered your phone number with Canada's National Do Not Call List. Otherwise, you may report the phone number to one of the services below:
New Zealand
The NZ Marketing Association operates "do not mail" and "do not call" registers, available free to consumers (not businesses). This do not completely prevent calls from telemarketers, only the members of the NZ Marketing Association abide by the rules outlined in the do not call register.
United Kingdom
The United Kingdom has a service called the Telephone Preference Service (TPS), which serves as the official 'Do Not Call' register for landline and mobile numbers. It allows people and businesses to opt out of unsolicited live sales and marketing calls.