If you receive a phone call from a number that you're not familiar with, one of the first things that people usually do is enter the phone number into Google to see if they can find out who called. While this used to be very effective in the past (there users to be a full-fledged product built directly into the Google search results called Google Phonebook which was discontinued) today there are much better ways to reverse lookup a phone number.
Google Phonebook has been discontinued
Around the year 2010, Google used to have a feature called Google Phonebook, which allowed anyone to use the "phonebook:" or "rphonebook:" (the "r" stood for "Residential") search operator to find information about the potential owner of a phone number. Unfortunately, due to the large number of removal requests that Google received from individuals who did not want their phone number details available with a simple search, Google removed this feature entirely.
This feature was used by many people for legitimate reasons, but the effort of removing people who did not want to appear in the search results seems to have been too much effort for Google to maintain. Since Google Phonebook doesn't exist anymore, is there still a way to find details about a phone number through a Google search?
Using Google to search for a phone number location
While Google won't give you the exact details of the current location of a phone number, you can use Google to find more information about where the phone number was first registered based on the area code. The area code is the first three digits of a phone number (not including the country code). To lookup details related to a phone number location based on area code, go to Google and type in the first three digits of the number. For example, let's imagine that the number you are searching is +1 213 555 0505. In order to lookup the location based on the area code, you would take the first three digits (213) and type just the numbers into Google followed by "area code". Take a look at the image below for an example of the search results from area code 213: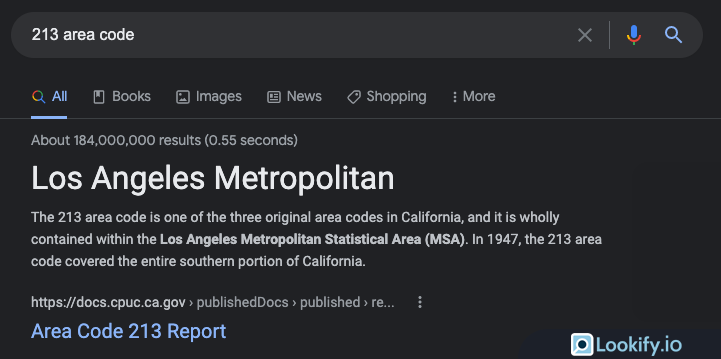 As we can see from the search results, it's clear that this phone number is based out of Los Angeles, California. This location is pretty broad, and Google does not allow you to get more specific in terms of the exact location, or the present location of the phone number that made the call. If you want more details about the area code itself, you can start a search using Lookify to retrieve basic information about the caller, potentially including caller name and current address.
Using Google Maps to lookup business phone numbers
While you might not be able to get information about a residential caller through a Google search, you can obtain information relatively easily if the number belongs to a business or organization. To get the best results, it's best to perform a Google Maps search as an easy way to find the business directly based on their phone number.
To perform a Google Maps search, first head to google.com/maps. Next, enter the full phone number of the business. Click on the search icon to lookup details. In the example below, we can see that the phone number (310) 860-9400 belongs to a pizza restaurant.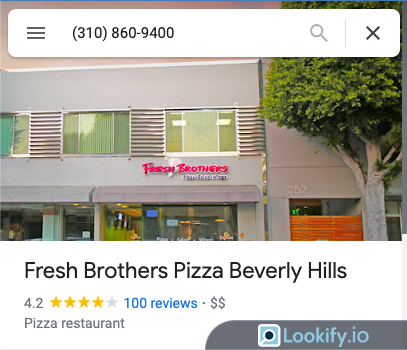 Filter search results belonging to a specific websites
A lesser-known feature in Google is searching for a phone number using the site: search parameter. This allows you to filter results belonging to a specific site. This is especially useful if you want to narrow your phone number search to a specific website. For example, you could perform the following search parameter if you're looking for the phone number belonging to the IRS:

Using this method allows you to refine your search to a single or handful of sites - so you can quickly identify the specific person, department, or user that owns the phone number on the site in question.
Frequently Asked Questions
Can Google show me the live location of a phone number?
No. It is not possible to obtain the exact live location of a phone number through a Google search. There are ways to share your real-time location with another person through Google Maps, but you and the person you are sharing your location with must agree to share this information before you can see these details within Google Maps. Using this feature may also allow you to see a history of where the phone has been, along with the current location.
How can I lookup the address of a phone number on Google?
Non-business phone numbers will not appear within a Google search, or they may consist of the wrong data. The best way to find the address associated with a phone number is to use a custom phone number lookup service such as Lookify.io. If you are searching for a business, you can enter the phone number of the business and perform a search, which may return the address - alternatively you can use the Google Maps search feature mentioned above in this article as well.
Is there any way to lookup a phone number for free?
Google might not be the best choice for finding out information about a phone number (unless it's a business). If you're looking for a free phone number lookup tool, we encourage you to check out Lookify.
The following information is available free of charge from a Lookify.io search:
Area Code Location
Number type
Carrier (also known as service provider)
User Reports
Country
State
City