The easiest way to lookup the carrier of a phone number is to use a free phone number lookup service to perform a search. At Lookify.io, we provide you with the carrier of a phone number at absolutely no cost - click here to begin your search.
Step 1: Enter your phone number in the phone number lookup field
Step 2: On the results page, look next to the "Carrier" section to see which carrier supports the phone number. See the photo below for an example.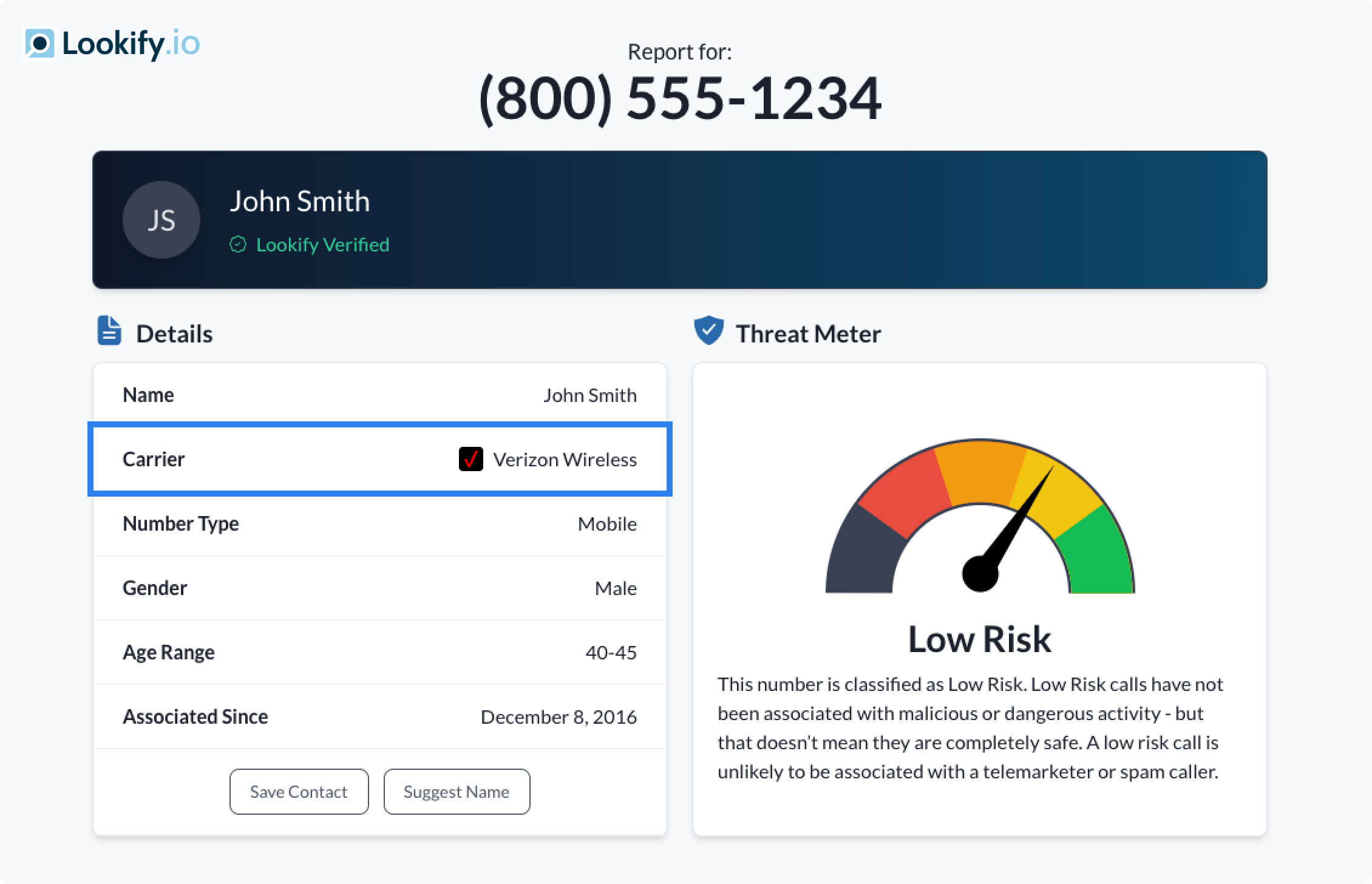 Important considerations when looking up the carrier of a cell phone number
Important to consider when a phone number is associated with a cell phone carriers: Due to the US act made into law surrounding wireless local number portability (referred to as the WLNP Act) – a wireless subscriber can change service providers within a given location while retaining the same phone number. The WLNP Act states that:
What this means is that the original carrier that first registered the phone number (and the name of the carrier that appears in reverse phone number lookups) may be the original carrier that is associated with the phone number, but not the current carrier supporting the user at the other end of the phone number. This is important to consider when you're looking up the carrier of a phone number – there is no way for a regular consumer to differentiate between whether a number has switched carriers due to the WLNP Act.
Want more information on phone carriers? Read on:
What is a Phone Carrier?
A phone carrier, also referred to as simply a "carrier" or "provider", is a phone company that provides cellular or landline service to end users (the customers). Most carriers support 3G, 4G and more recently, 5G service across large swaths of land due to years of investing time and resources in networking infrastructure.
The interactive map below showcases areas within the United States with at least 3G speed or better based on number of service providers within the area, based on data collected from 2016.
In the United States, the largest carriers are Verizon Wireless, Sprint, AT&T Mobility, and T-Mobile. If you use a carrier within the United States that is not one of the "big four" carriers, then you are most likely using a mobile virtual network operator.
What is a mobile virtual network operator?
Mobile virtual network operators (also referred to by their acronym MVNO's) are wireless communications services providers that do not own the wireless network infrastructure over which they provides services to customers. In many cases, the MVNO rents or leases access to the main network at a wholesale or discounted rate, and then sells the services to consumers.
In a FTC report from 2006, one analyst estimated that there were more than 50 MVNOs operating in the United States. TracFone Wireless Inc., which served more than 8 million customers with prepaid offerings, is the largest independent reseller of wireless service, with Virgin Mobile USA ("Virgin Mobile") in second place serving almost 4.6 million subscribers, to a primarily young audience. Many of these MVNO's are targeting specific demographic groups – such as specific age groups (Virgin Mobile, for example, and the young demographics) and even so much as certain ethnicities (Azteca Mobile).
How do I lookup the carrier of a phone number in bulk?
If you have multiple phone numbers and want to know the carrier for each one, it's reccommended to use a carrier lookup API to programatically search for the carrier of each number without having to manually enter the phone number into a search box. In order to utilize a carrier lookup API, typically you need to obtain an API key. Lookify offers free carrier lookups through our carrier lookup API, all you need to do is contact us to recieve an API key, and you'll ready to obtain carrier data for any international phone number.